Podcast
Live from State of Mind: Nathan Moore
April 24, 2008
It felt great going through the process of having Nathan Moore be our cover story' throwing some support behind his first ever solo tour' and then getting to see people react to his music. He started the tour in NYC' and from there we heard the reaction ripple through friends and messages boards about each show' hitting Brooklyn' Providence' Boston' Woodstock' and four shows in Vermont.

Nathan possesses that great songwriter magic: When you have a feeling' he has a song for it. When you have something you can't describe' he can put it into words. Besides the power of the songs' seeing Nathan play these shows was a reminder that he's a powerful performer. Each night he played the room' completely living and thriving off the moment.

While in town' Nathan came by to perform some songs' including a days-old "DUMBO'" and be interviewed for the inaugural episode of Live from State of Mind. Ladies and gentlemen' live from State of Mind' it's Nathan Moore...

Songs
•DUMBO
•Muddy River
•Train of Thoughts
•Hollow
•Travelin' On
•Exploding Pen
•Banter (recorded by Jonah Schulte at Parima in Burlington' VT' 4/5/08)
•Talkin' Walkin' Round Town Blues (recorded by Jonah Schulte at Parima in Burlington' VT' 4/5/08)
Hosted by Mike McKinley and Matt Bushlow
Produced by Matt Bushlow and Alison LaCourse Duback
Engineered by Alison LaCourse Duback
Top photo by Woods Pierce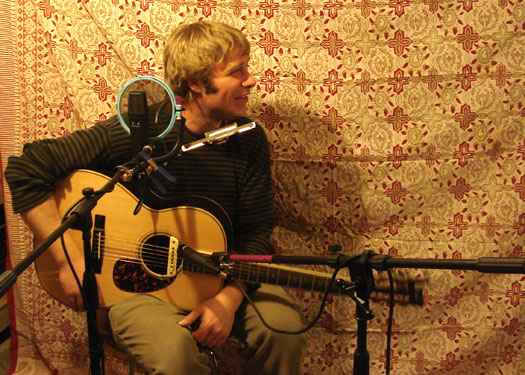 Nathan at State of Mind
tell a friend
Comments
Lumpy
April 27, 2008
Thanks for the great cover article, and what looks to be a great recording of Nathan. One of my absolute favorites!
Jones
April 28, 2008
Nathan is brilliant
Radio Radio
April 28, 2008
Yeah, that guy knows how to write a song.
DBR
May 2, 2008
Exploding Pen = fantastic
Andrew
May 14, 2008
I just saw Nathan in Staunton Va. last weekend. He was great. At times he sounded like Tom Waits channeling Leonard Cohen. Where'd this guy come from? Did he recently just spring forth from Hera's head?
Hawker
June 26, 2008
Listening to Mr. Moore always makes me happy. Thanks!
Leftover Zombie
July 10, 2008
Great recording! Yes, Nathan DOES have a lot of love in his life.
Tony Sanner (Netherlands)
November 10, 2008
Only discovered Nathan last week on MySpace: a revelation. Extremely talented songwriter and great lyrics. A modern Leonard Cohen.
nathan del-moor
June 3, 2009
me and u have the same name buy my is nathan del-moor
Add your comment