Blog

The Magic of a Marco Benevento Residency at Radio Bean
by Mike McKinley
October 25, 2011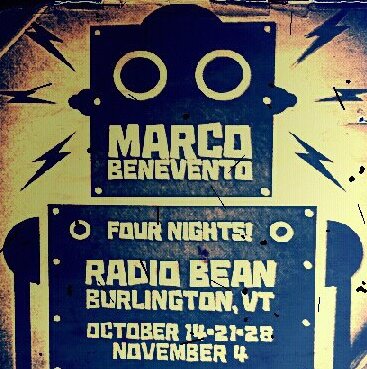 The way
Marco Benevento
kicked off his weekly residency on October 14th at the
Radio Bean
couldn't have been any better. Everything worked -- the energy, the vibe, the sound, the intimacy of the small room. Two-minutes into his first piece of the night, it was like the room experienced collective transcendence. Distorted piano notes were already bleeding over the edge. The rhythm section (Andy Borger on drums and Dave Driewitz on bass) was immediately so locked-in and tight that it felt completely loose. One song in and you just knew: there's going to be some great fucking music made in this room over the next four Friday nights.
Marco made one clear declaration that night: "Hey Burlington! Bring your instruments next week."

And for round two last Friday night, they did. Some of Burlington's finest hit the stage -- saxophonist Caroline O'Connor, guitarist Bob Wagner, bassist Mike Gordon and vocalist Kat Wright all joined Marco. Yep, plenty of great collaborations. But my favorite part of all the guests was when vocalist
Samara Lark
hopped on stage to sing The Knife's "Heartbeats." Samara has also been working the door the last two weeks at the Bean. Only at the Radio Bean and only with a host like Marco could the person working the door take a break, get on stage and crush it, and then go back to work. Marco & the Radio Bean: the perfect pair. I can't wait for some more magic this Friday night…
tell a friend
Comments
BLK
October 26, 2011
The trio destroyed Albany last weekend
Greg
October 26, 2011
Aint no party like a Marco party
gd
October 26, 2011
maybe i should drop by with my modular synth this friday... :)
Michael
November 1, 2011
You forgot to mention the woman who played the saw. How could you possibly forget??? Pretty sure I saw her on stage all three weekends.
Add your comment