Podcast
State of Mind Radio: Conversation with Marco Benevento
by Mike McKinley
March 25, 2012
Pianist
Marco Benevento
visited Burlington frequently last fall. He held down a residency at the Radio Bean for four Friday nights' with each passing week becoming a little more adventurous and more collaborative with local musicians. He declared during the first week: "Hey Burlington' bring your instruments next week." And musicians in town responded -- there were at least twenty different sit-ins over the next three weeks. Marco was the warm' fun host that made the residency a communal one. There were many incredible surprises. And' of course' there were a few train wrecks. But that's how it goes with Marco: no risk' no reward.
During the last night of his residency' he stopped by the State of Mind Headquarters to talk with me about where he was at' covering a wide variety of topics. Naturally' we began by discussing what he gets out of doing weekly residencies' the collaborations' and the experience of returning to his roots by touring in a very stripped down' low budget way.
And then we got into it about his record label'
the Royal Potato Family
: how it came to be' where the name came from' what he thinks about the records they're putting out' and the new record he's working on -- tentatively going by
Tiger Face!
. You'll hear the instrumental version of "This Is How It Goes" during this recording' and he shares his experience of collaborating with Kalmia Traver of Rubblebucket on the vocal version of the tune (yet to be released).
We also talked about those goosebump moments playing' the inspiration that comes from fatherhood' and much more. Just like Marco's appearance on stage' he's warm' likes to laugh a lot and is generous with his time. Our conversation here is about an hour or so' and just like a show' it takes a little warming up before things really get cooking.
Songs you will hear throughout our conversation:

* "Fireworks" (
Escape Horse/Fireworks
)
* "You Must Be a Lion" (
Invisible Baby
)
* "Music Is Still Secret" (
Between Needles and Nightfall
)
* "This Is How It Goes" (unreleased track' instrumental version)
* "Memphis" (
Play Pause Stop
)
* "Golden" (
Me Not Me
)
* "Run of the Mill" (
Me Not Me
)
* "Escape Horse" (
Escape Horse/Fireworks
)
Produced by Mike McKinley
Engineered by Brandi Cahill
Top photo by Michael Weintrob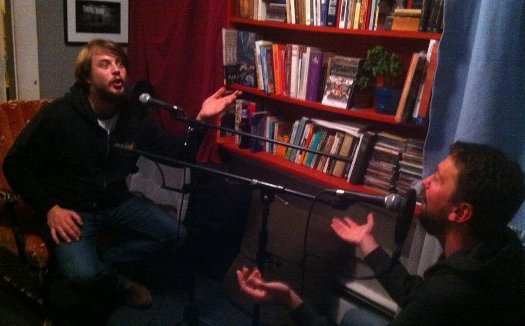 Marco at the SoM HQ -- photo by Brandi Cahill
tell a friend
Comments
Vic
February 27, 2012
Hi there tiger face!!
cj
February 28, 2012
great stuff. i love the interview and love marco's new tunes. i'm seeing him solo next month and can't wait.
Artie
March 7, 2012
I finally had time to sit down and give this attention. I have to say, this might be one of the most insightful interviews I've ever come across with Mr. Benevento. He's his usually off-the-wall, goofy self, and that makes it all the more enticing. I really enjoyed the pacing and how well-drawn out each topic is: refreshing indeed.
Artie
March 7, 2012
P.S. The Royal Potato Family story and the bit about his kids is priceless!
Add your comment