Blog

Tommy Hamilton on Levon Helm
by Mike McKinley
April 24, 2012
Last week when Levon Helm's family sent out word that he was in the final stages in his battle with cancer' Tommy Hamilton (American Babies and Brothers Past) reached out and asked if he could write something on him. A few days later we lost the iconic drummer and singer from The Band and host of the Midnight Ramble. It was a sad day for rock 'n' roll. I took respite in exchanging stories with friends' and seeing my Facebook feed filled for days with tributes and memories of the man. I felt grateful to be surrounded by so many people that feel so strongly about the power of music. I took my friend Jay's (The Show Sherpa) advice: let's not mourn the loss' but celebrate the life. Levon was one-of-a-kind' and that smile and sound will never be forgotten.
Here are Tommy's thoughts on Levon.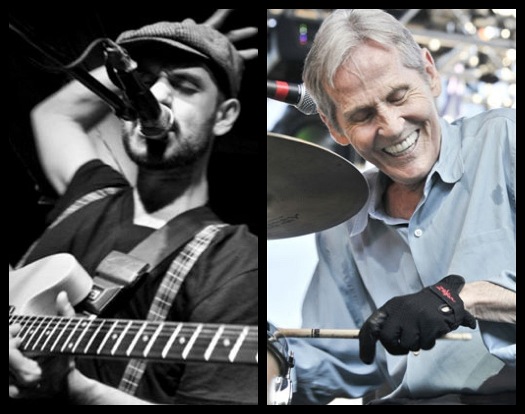 photos by Andy Hill
April 17th' 2012

Most of my early childhood memories revolve around my dad sitting me down and making me listen to music. There was always a specific lesson to be learned. Whether I was getting examples of what a Leslie speaker sounded like from Rick Wright on Pink Floyd's "Eclipse" or what a wah-wah pedal does on Chicago's "25 or 6 to 4'" it was always for a deliberate reason.
When I was around seven years old and diving heavily into drumming' my old man put a VHS tape into our VCR and told me to be quiet' watch' and listen. I asked' "What am I listening for?" looking for some instruction. He just hushed me and pressed play. This was the moment that Levon Helm became a fixture in my life and a standard in my development as a drummer' singer' artist' and adult.
The music was flat out overwhelming' and there were (still are) endless lessons to be taken from that movie. The groove was so unique to my ears; the tones were as warm as anything I had heard up to that time. It was all so real. It was all so serious. I was coming from Zeppelin's Lord of the Rings/wearing capes on stage/over-the-top-ness' and the Dead's psychedelic leanings. There was nothing mysterious or flamboyant about these songs' especially when Levon Helm was delivering it. They were straight up and brutal. They spoke of shit that I couldn't possibly grasp' but I knew sincerity when I heard it.
I latched onto Levon like I don't know what. His playing was' quite simply' incredible. His voice was like a sledgehammer to the chest. But my favorite parts of the film were the interviews. The manner in which he spoke was deliberate and at a steady pace. He was charming in the most honest way and you could tell' without a doubt' that he respected the craft. He was dignity personified.
Over the next twenty-some years' I have seen The Last Waltz quite literally hundreds of times. I've dug deep into The Band's discography' as well as other acts' records that Levon played on. I've seen his movies' read his book (do yourself a favor and read This Wheel's on Fire immediately)' and had the honor of seeing one of his Rambles. Through all of my phases of music' either listening or creating' I've always come back to Levon as a litmus test for remaining grounded and true. His integrity was and is the standard of which I hold myself and others to.
Today we all learned that Levon is on the wrong side of his lengthy battle with cancer. It's strange to think that as I write this' he is breathing his final breaths and making his peace with this life. I've never had the opportunity to meet Levon Helm and thank him for all he's done for me and countless others' but I can hope that he moves onward without fear or pain' and with the dignity that he has always displayed and inspired in others.
tell a friend
Comments
Mike M.
April 24, 2012
Also...

Besides being an iconoclast of 60s and 70s rock music, Levon made such a significant influence on the modern day live music scene – his Midnight Rambles at his barn in Woodstock, NY were a "must experience" for most purveyors of live music, and he became a fixture on the festival circuit with appearances at moe.down, Mountain Jam, and Gathering of the Vibes to name a few. His band always kicked ass. I was always amazed by Levon – even in his 70s, fighting off ailments and illness, his spirit was never subdued when he took the stage. He was such an inspiration.
Sara
April 24, 2012
Nice words. RIP, Levon.
Jonny
April 24, 2012
Thanks for sharing this!
Ben F.
April 24, 2012
I whole heartedly agree and relate to what Tommy wrote of Levon. Since I first heard him (I think my introduction was hearing "The Weight" on the "Easy Rider" soundtrack way back when I was 13 or 14) sing and drum, I was completely blown away. Levon and Danko were my two favorite voices in the Band. Levon sounding weathered, ragged, wise, powerful, yet also sweet and sincere at the same time. While Danko sounded troubled, scared, brutally honest, and completely true. Straight from his heart. I unfortunately never got to see Levon. He was ALWAYS on my "must see" list, but I never did get to see him. Something that pains me now. He JUST played in my town (Ann Arbor, MI) last month, but due to my own personal nonsense I ended up missing the show. Something I will most certainly regret for quite some time. It was also always one of my dreams to goto one of his Midnight Rambles. The fact that he even did that, invited fans and musicians alike to his own personally owned barn to hold monthly(? I know they were at one point) concerts is yet another symbol of his true dedication to music. As well as preservation of the traditions he grew up around.

My favorite movie of all time? The Last Waltz, easily (followed fairly closely by The Talking Heads' "Stop Making Sense" and Neil Young's "Rust Never Sleeps". I could, and have, watch the Last Waltz hundreds of times. I will show it to my friends, family, my children, anyone who will listen and appreciates truly great American music. Even through all my musical changes and evolution (I'm currently in the midst of a experimental electronic music and Instrumental Hip Hop phase...) the Band has remained my favorite band and stand by. Next to only the Beatles, the Bands music is truly timeless to me. It never gets old nor boring. I can listen to them at any time, no matter my mood or circumstance. There are VERY few bands I can say this about (and any who know me, knows I listen to ALOT of music. From across the board. Virtually every genre and time period.)

So rest in peace Levon. You will be greatly missed by those who knew you personally and those who felt they knew you personally through the raw honesty of your music. I will even say you will be missed even by those who never heard (and possibly will never hear) your music, due to your immense impact on Rock n Roll, Bluegrass, Country, and Americana.

There will never be another musician like you. I hope you rest easy knowing your musical legacy will live on through all those you have inspired.
padzeke
April 30, 2012
The first person I thought about when Levon passed was you Tommy. You introduced him to me with a cover of "The Weight" down in the Outer Banks(Whale's Song) with my bro singing alternate verses with you. Never can get enough of Levon and the Band. A sad day last week.
Michael Koehler
April 30, 2012
The Last Waltz had a major impact on me as well, but I only really heard it a few years ago and kept it from Netflix for a month! I am heartbroken I never got to hear Levon and The Band live. I was so close! Fortunately we have good recordings to help pass on the music.
Derek
June 4, 2012
awesome piece guys!
Add your comment