Shows
Mile High Festival
July 19-20, 2008
in Denver' CO
by Garret K. Woodward
|
photography by Andrew Wyatt
July 22, 2008
page 3 of 5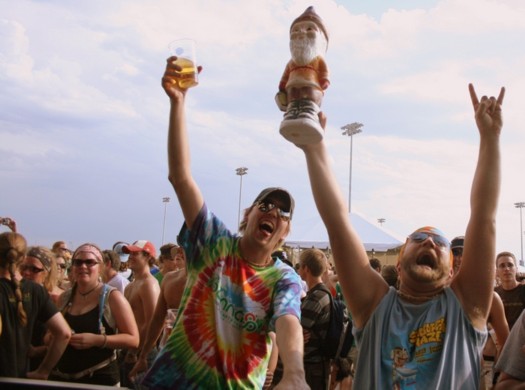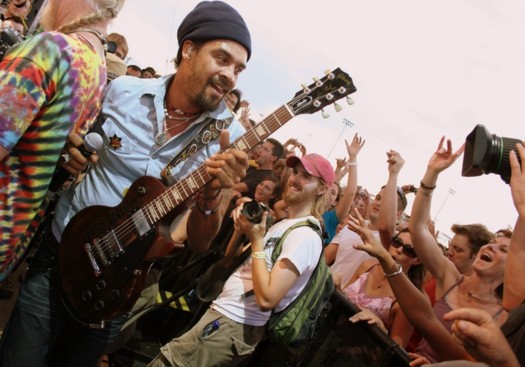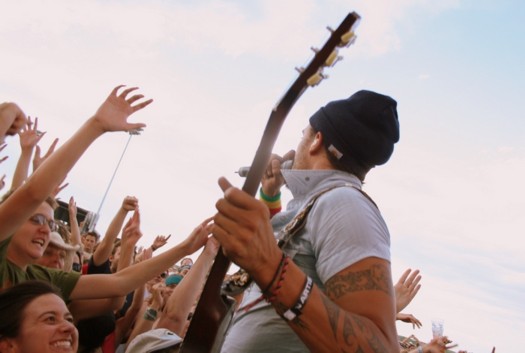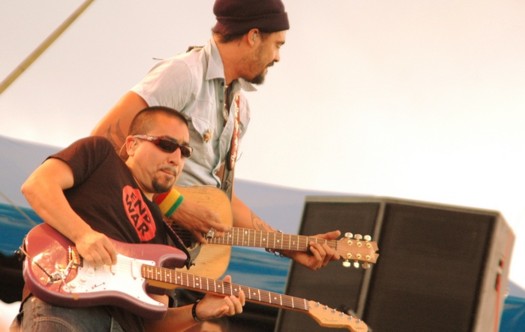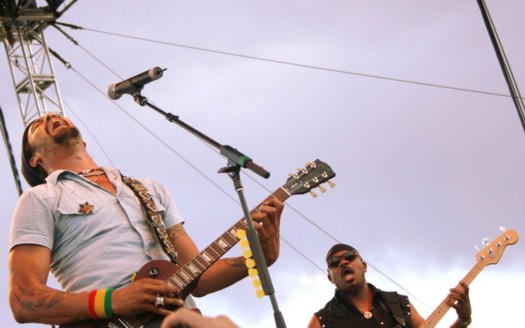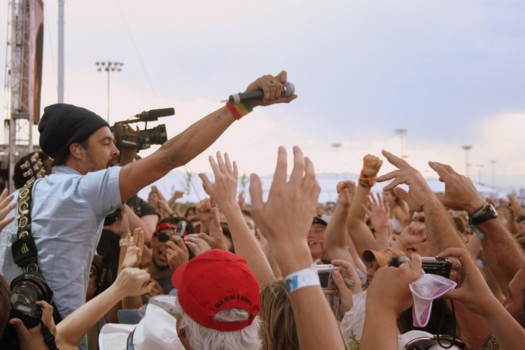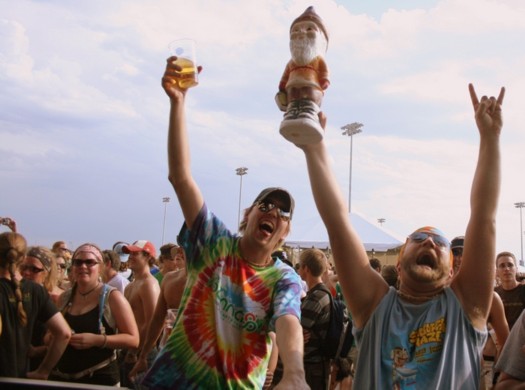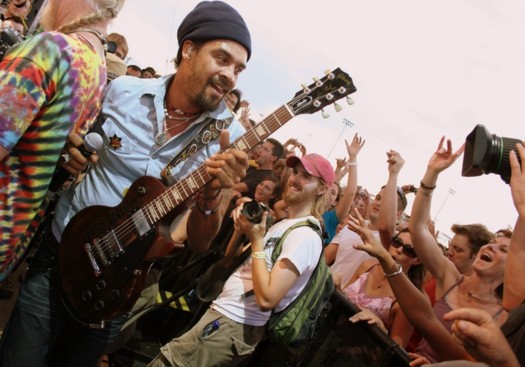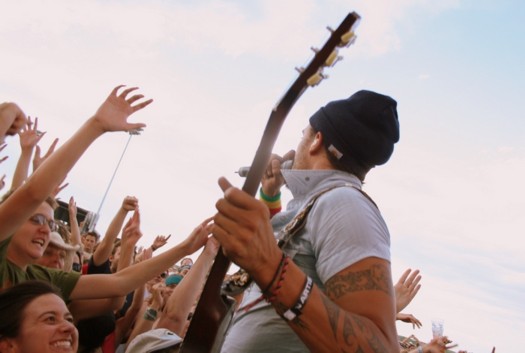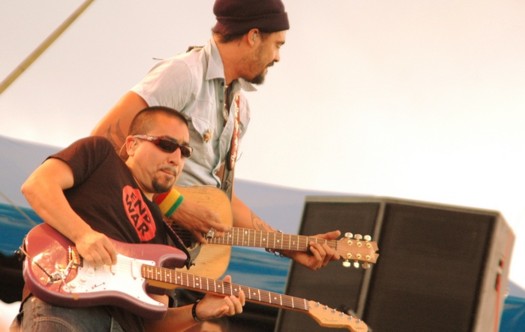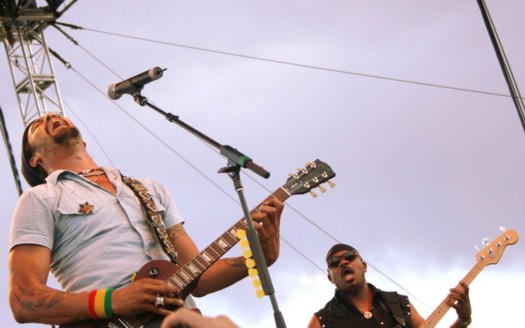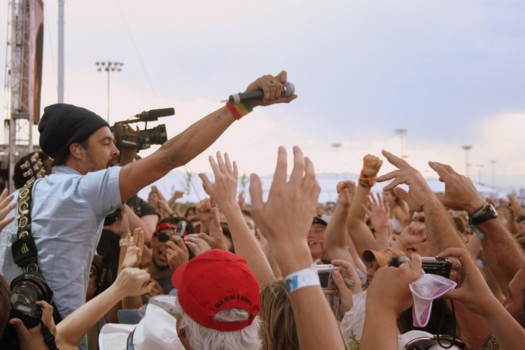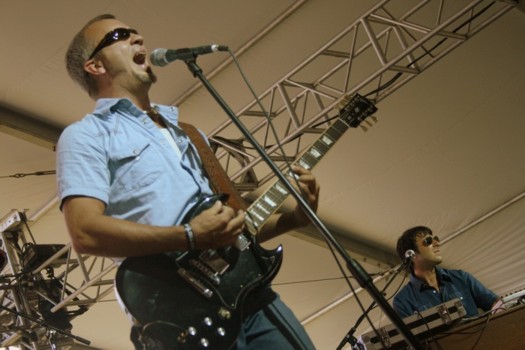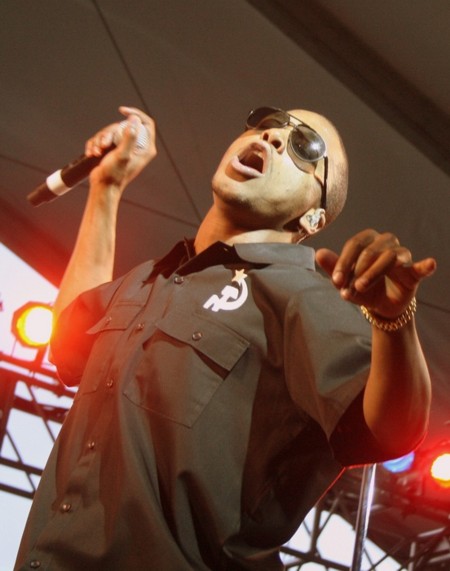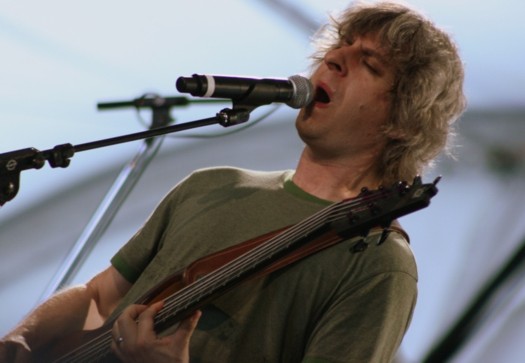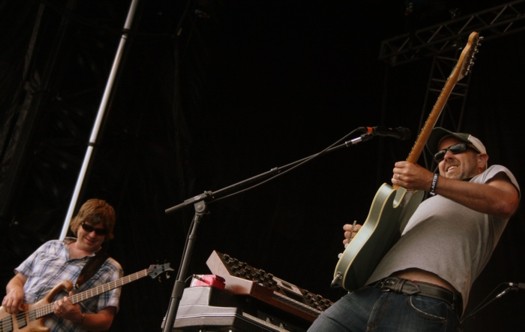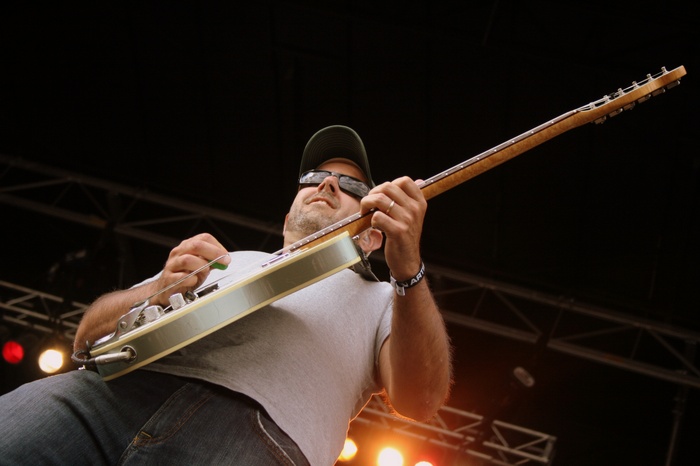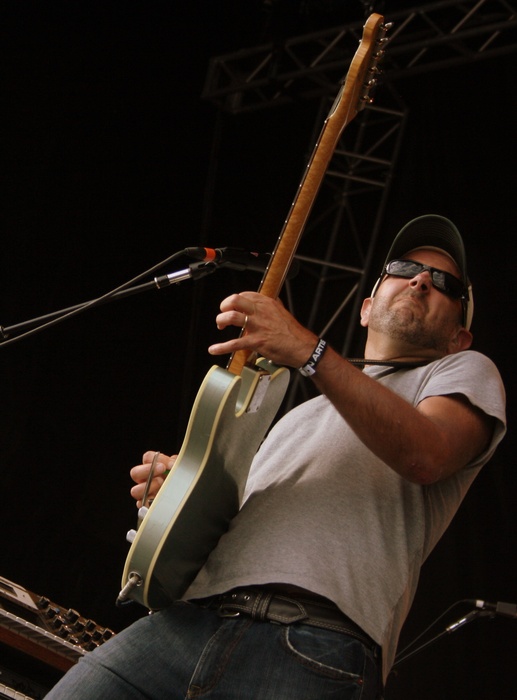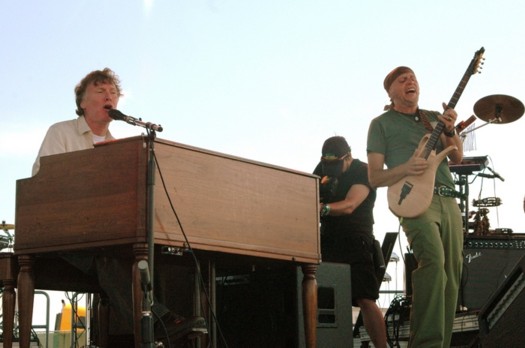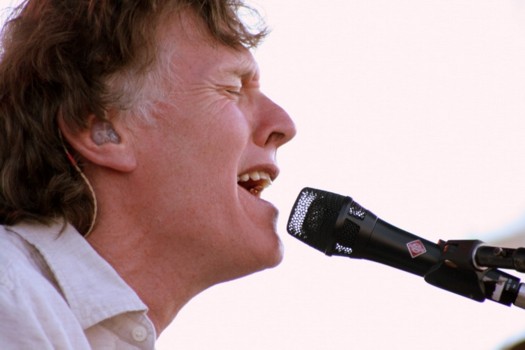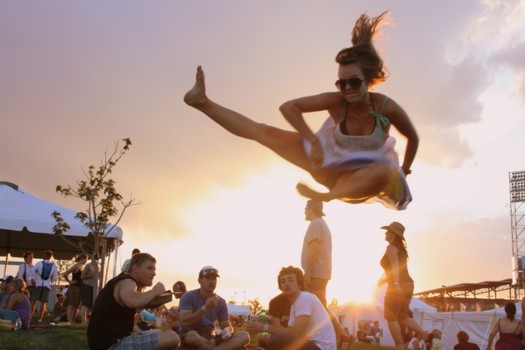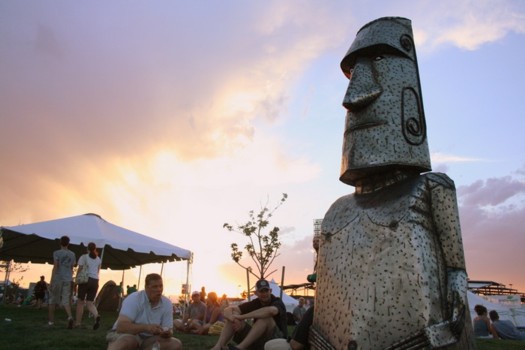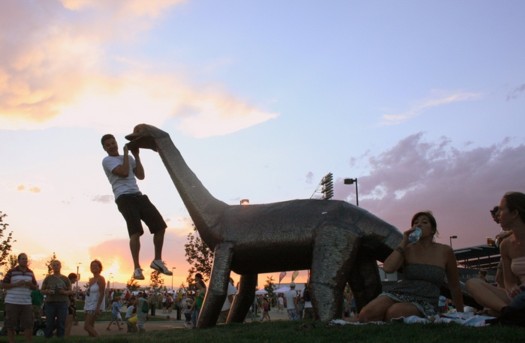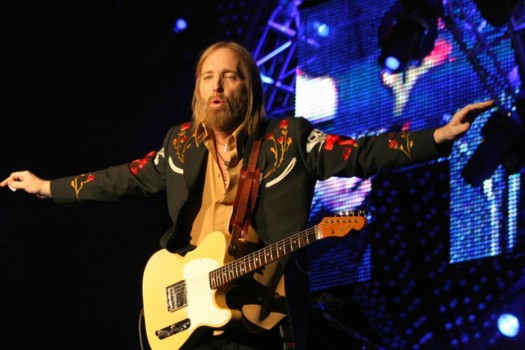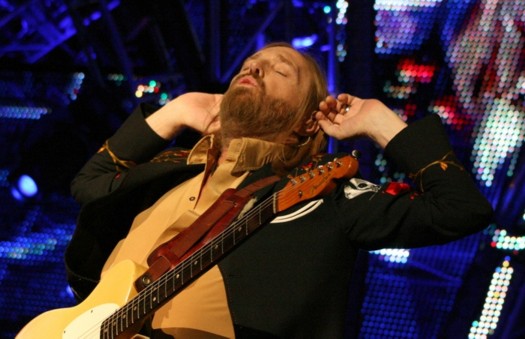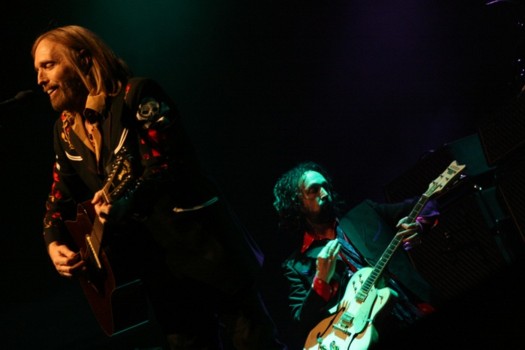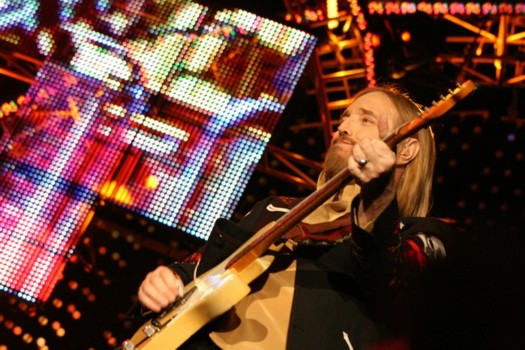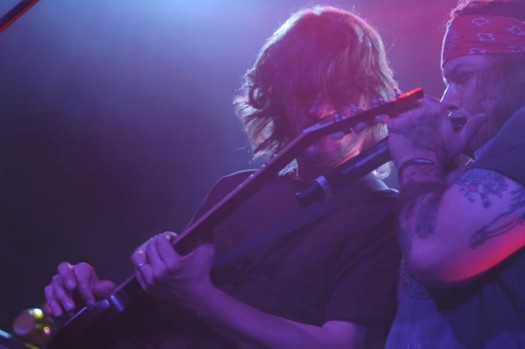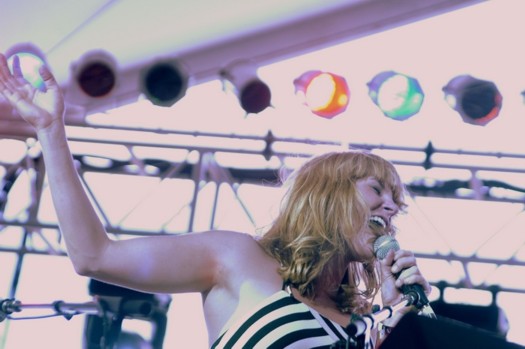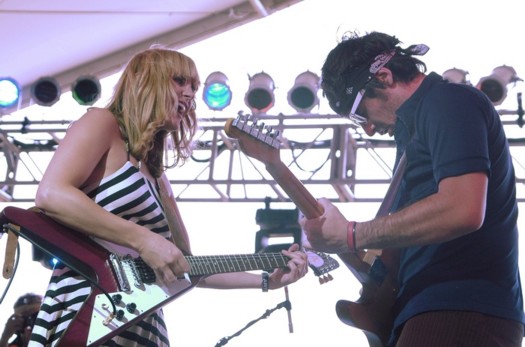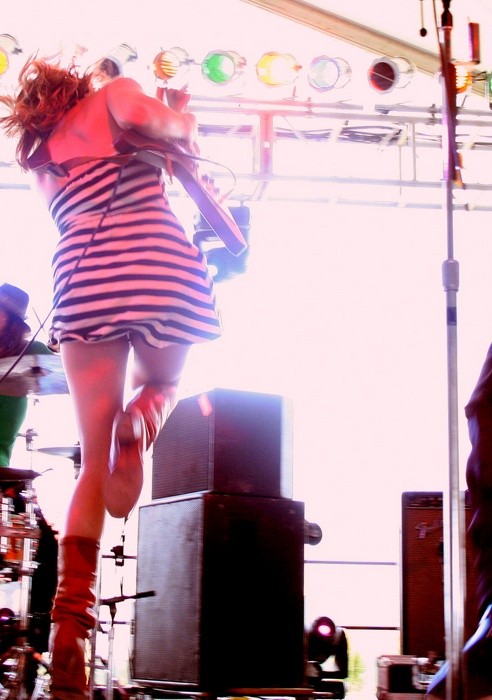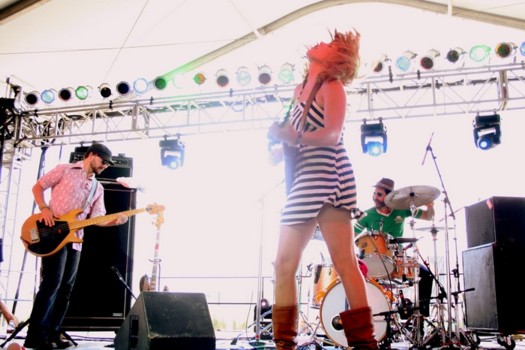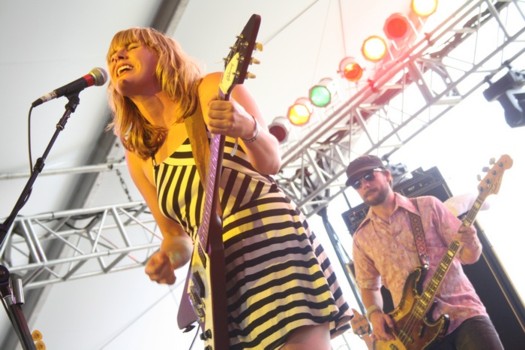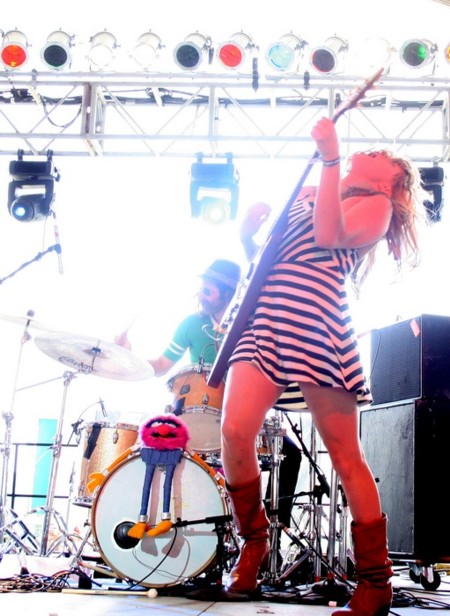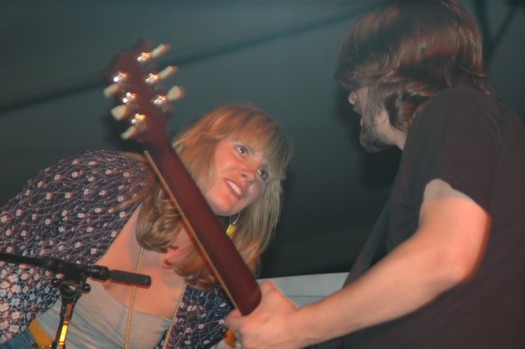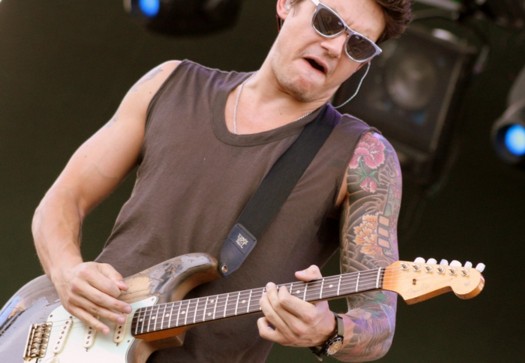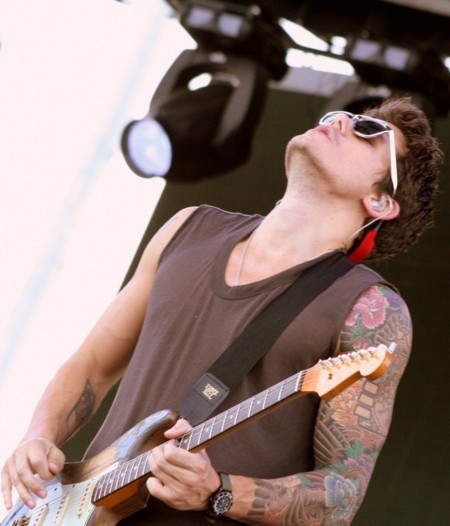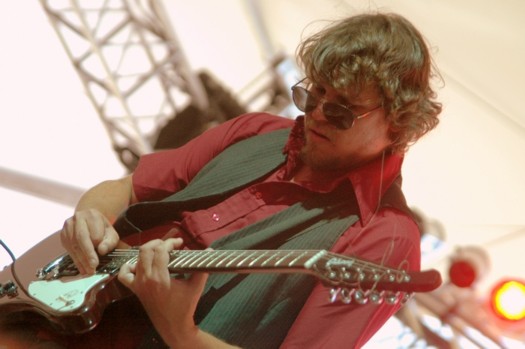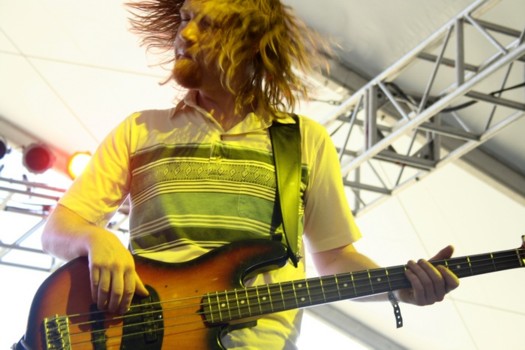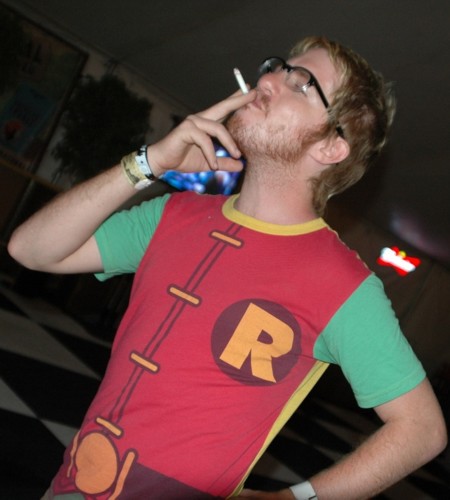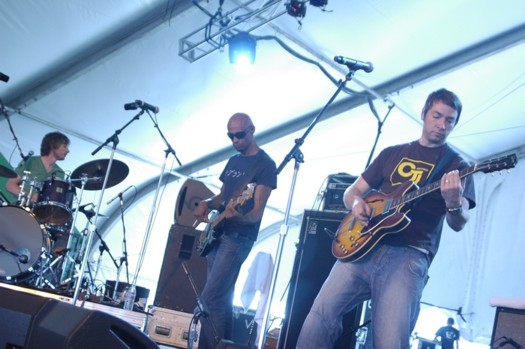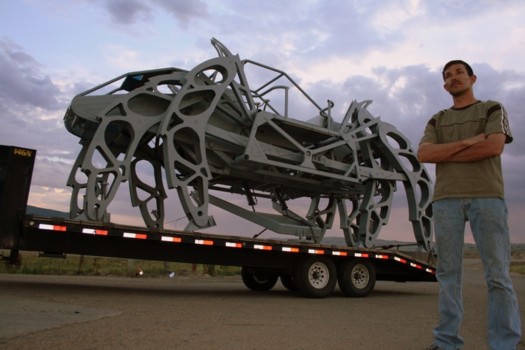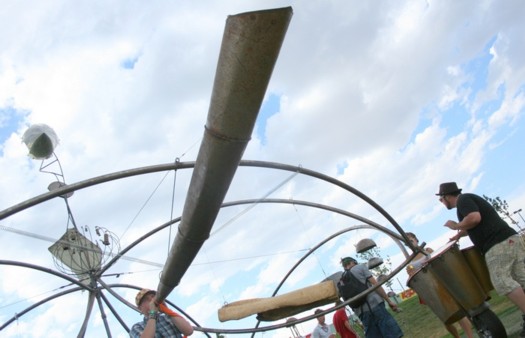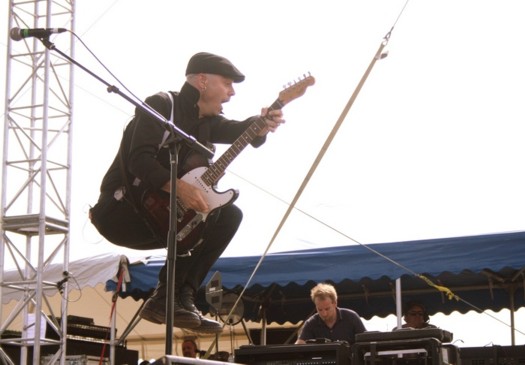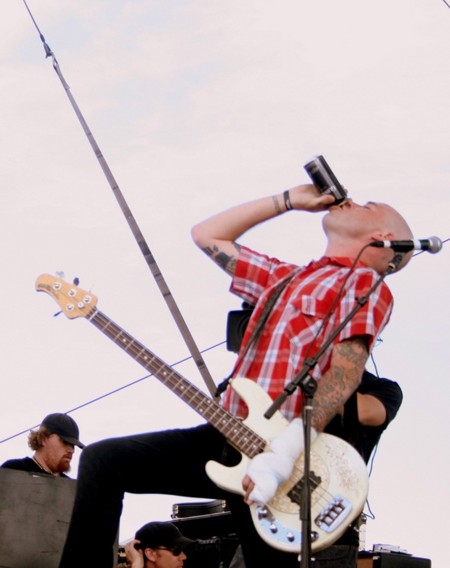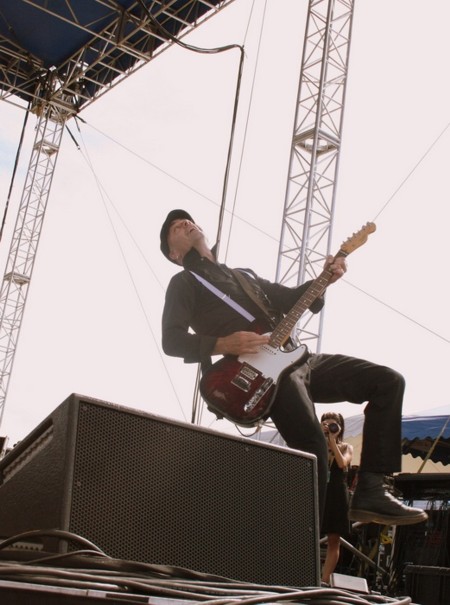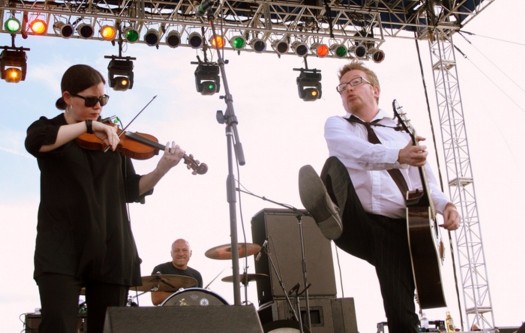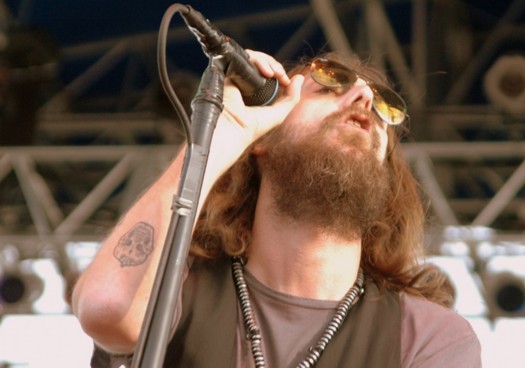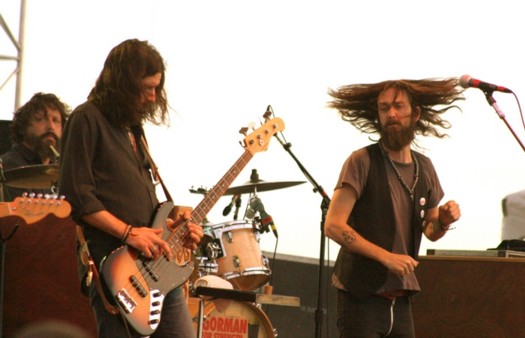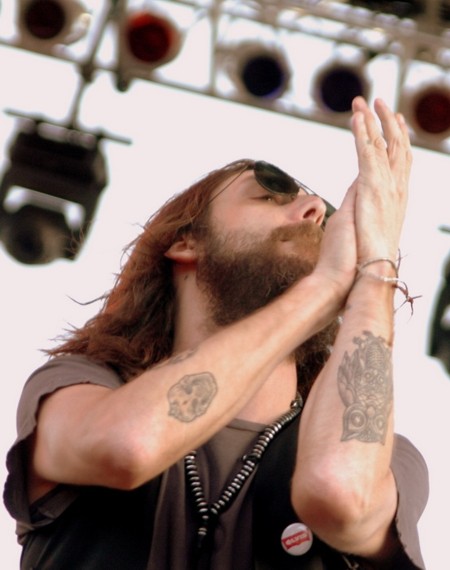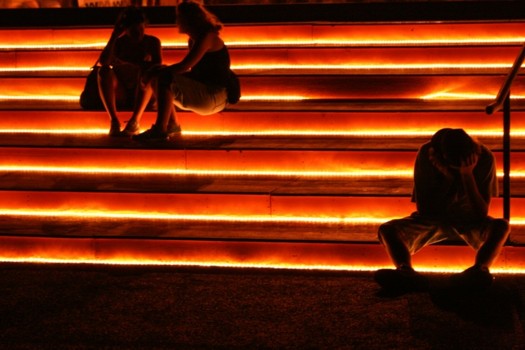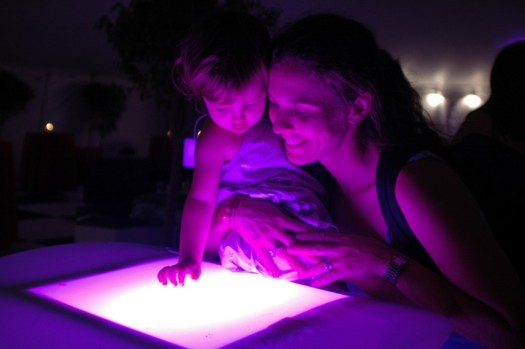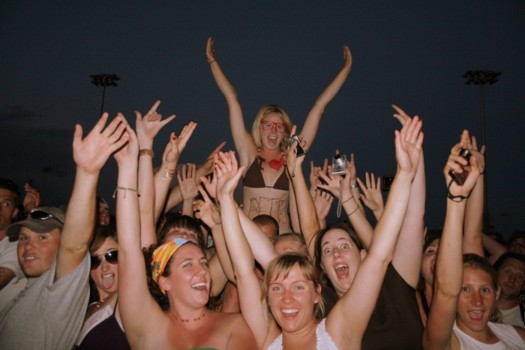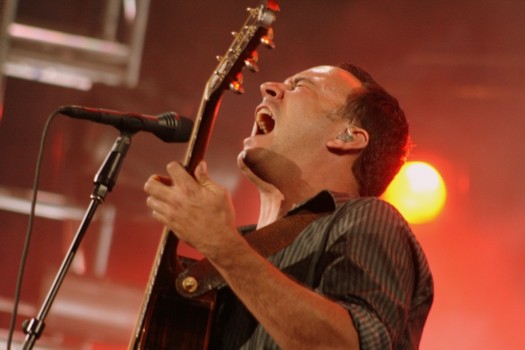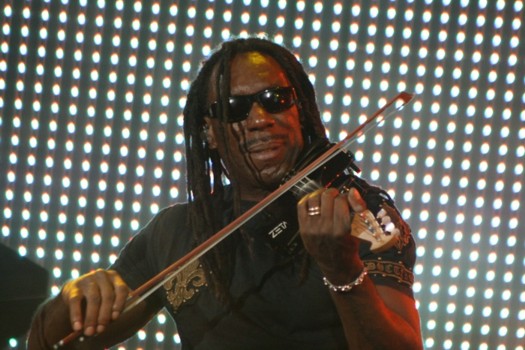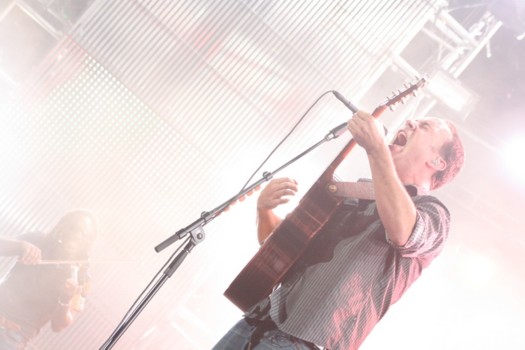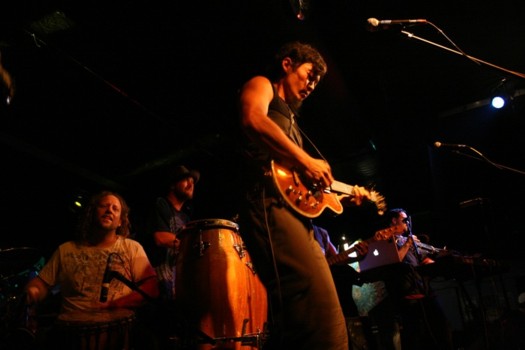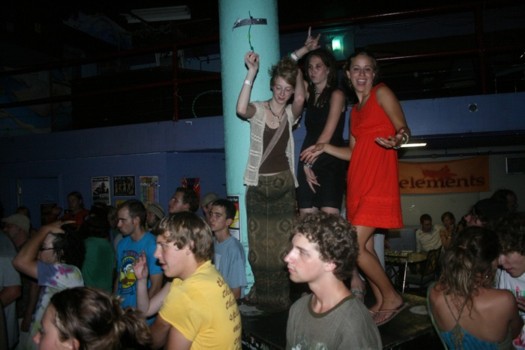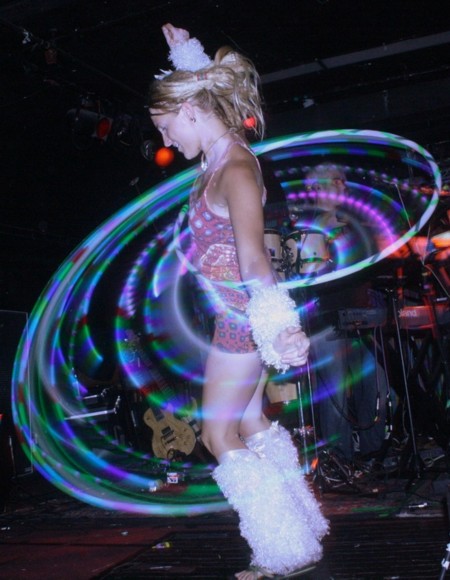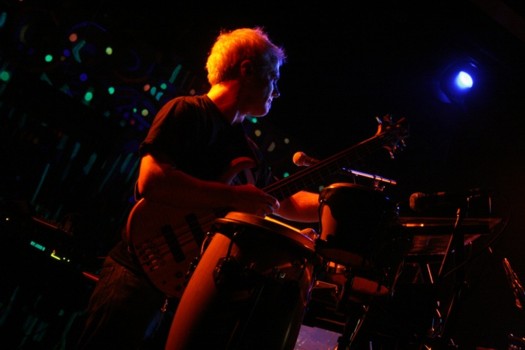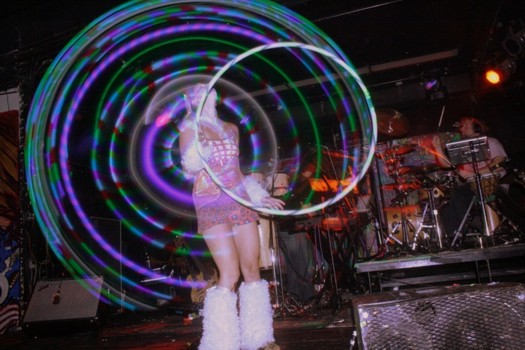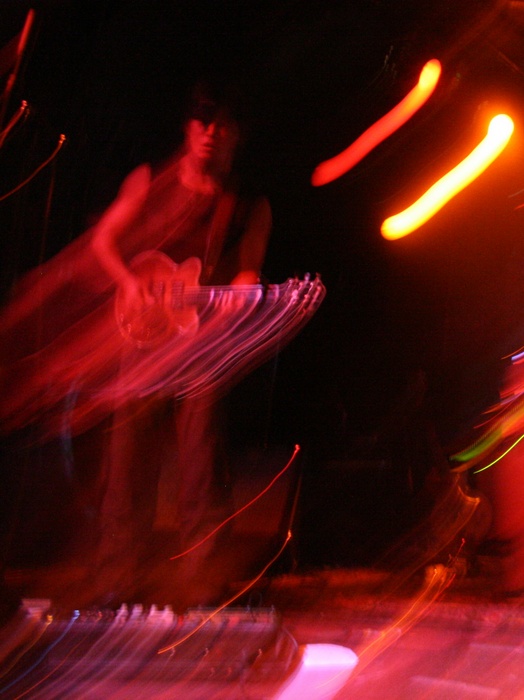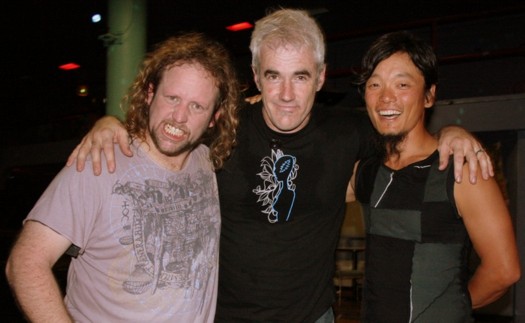 With the large eastward shadow of the main stage looming' Citizen Cope entered the stage. Having always been a fan of his musical styling' I sat down for half of the set' seeing as Winwood was another long walk to the other side of the field. The performance was pretty similar to any other Cope show I'd seen. But no matter how many times he beats a song like a dead horse' the crowd (and myself) always seems to respond joyously.
The familiar sounds of Steve Winwood soon echoed across the large venue (which is dozens of soccer fields used by the metropolitan area). A true professional in every sense of the word' Winwood dazzled the crowd with an array of his greatest hits catalog. "Higher Love'" "Gimme Some Lovin'" had bodies gyrating but "Dear Mr. Fantasy" (a highlight of the weekend) brought chills to the necks of the listener with a guitar solo as impressive as it was emotional. He won over my vote for best artist of the festival.
Finally' it was time for moe. Even though they seemed a smaller act (to others) compared to most on the bill' they were the only band I made time for to see the entire set. Opening with "Crab Eyes'" the passion bubbled as the mob of people rushed the stage. It seemed only the true moe.rons remained in attendance' as most of the initial multitude wandered off to see Spoon' O.A.R. or get prime real estate for Michael Franti & Spearhead. Through elevated guitar solos and crotch tingling bass hooks' it was a bittersweet performance (especially during the set-ending' foot-stomping' fist-pumping and tears-of-joy-jerking "Plane Crash") knowing the hiatus that is forthcoming after moe.down.
"I'm literally looking forward to having some time to clean out my basement'" guitarist Al Schnier said afterwards. "All of us only have enough time between tours and recording to make our family and friend rounds' then head back out. I'm looking forward to spending time with my wife and kids' coach their soccer team."
And what about taking a hiatus just when the floor is open for a moe. takeover?

"We've been touring nonstop for the past 19 years; we need a break'" he said. "Our fans have always been loyal' always been there for us and will be when we come back."
As I meandered from moe.' I heard "How you feelin'?" echo into the distance. A political powerhouse and festival staple' Michael Franti & Spearhead attracted one of the largest gatherings of the day. I get his music' I really do' but I'm just not that into it. The arm swaying optimism of the crowd gets old unless I have a bottle of bourbon with me. But' it was an introspective moment as I sat down in the back and watched the sunset over the Rocky Mountains to the west. The Denver skyline started to illuminate to the south' the evening clouds finally provided some relief from the heat as Franti commented on the spectacle and why we are were lucky to share in it. And he was right; we were.
Alas' it was time to make my way over to the one act I'd been looking forward to the entire festival -- Lupe Fiasco. To all those who think rap and hip-hop is the death of modern music' Lupe is the rejuvenation of faith and respect greatly needed amid the music scene. Belting through melodies like the crowd-favorite "Kick Push" or "I Gotcha'" Fiasco is creating some of the most original music made this decade. With a keen lyrical perception akin to Kanye West and finesse parallel to Pharrell Williams' he is a breath of fresh air in a hazy' sometimes smothering industry.
As night settled in' swarms of people migrated towards Tom Petty and the Heartbreakers. Petty seemed in high spirits as he brandished that trademark smile and chuckle throughout the performance. "Mary Jane's Last Dance'" "Listen to Her Heart" and "Breakdown" only scratched the surface of numerous greatest hits this predictable' yet always pleasing' set produced. A version of the Traveling Wilbury's "End of The Line" popped up to the joyful surprise of the listener. Quite possibly the highlight of the weekend' Steve Winwood joined the band for a couple of numbers. A cover of "Gimme Some Lovin'" provoked a deafening roar from the tens of thousands who provided backup vocals. Day 1 of Mile High ended with a ripping "American Girl'" to which the masses immediately stormed the exit gates in an effort to avoid the vast traffic lines that quickly formed seeing as' to the dismay of many' there was no camping allowed at the festival.
SUNDAY - DICK'S SPORTING GOODS PARK

Although the weather forecast for Day 2 said sunshine and high temperatures' the fluffy clouds on the horizon indicated a somewhat cooler endeavor would ensue compared to yesterday.
The New Mastersounds were just getting underway with their funk meets rock formula that has proved bountiful. Led by guitarist/vocalist Eddie Roberts' the British foursome bleeds genuine passion as they improvised' waltzed across and jumped around the stage with infectious grins on their faces.

A few random stops soon followed as Rodrigo y Gabriela and Tea Leaf Green lay in the crosshairs.
As much as they are guitar geniuses' watching the RyG duo on the main stage was a tad lackluster seeing as the enormous crowd wanted to move and not analyze chord changes' especially in 90-plus degree heat. A glance around produced some disturbing images. I realized the majority of the people were not there for RyG' but were there to set up shop for the Dave Matthews Band' not scheduled to play for another five or so hours. After a few tunes' I set my course for a little TLG.
One of the more promising bands out there' TLG put forth their blend of '60s psychedelic and '70s rock. Those in the know gathered for the seemingly forgotten name on the lineup. With Reed Mathis (also of Jacob Fred Jazz Odyssey) thumbing through his ferocious bass lines' Trevor Garrod's vocal styling complimented his already inspirational songwriting ability. It was a strong set' as expected' from the next generation.
tell a friend
Comments
CatNapper
July 23, 2008
Is that first photo Ben and Jerry?
LMB
July 23, 2008
I think it's Wayne and Garth.
Mike M.
July 24, 2008
Is that Bob and David?
Vic
July 24, 2008
Great shots, Andrew! Those sunsets look beautiful. I know exactly how it feels.
Add your comment
related articles
Shows: snoe.down 2013
Shows: Grace Potter and the Nocturnals
Features: Best Songs of 2012
Features: Staff Picks: Top Photos of 2012
Blog: Best Songs of 2012: moe. - "Downward Facing Dog"
More on:
Grace Potter
,
Grace Potter and the Nocturnals
,
The Black Crowes
,
Flogging Molly
,
Dave Matthews Band
,
Mike Gordon
,
moe.
,
John Mayer
,
The New Mastersounds
,
Tea Leaf Green
,
Michael Franti and Spearhead
,
JJ Grey and Mofro
,
Lupe Fiasco
,
Steve Winwood
,
Tom Petty
,
Tom Petty and the Heartbreakers
,
One Republic
,
Flogging Molly
,
EOTO