Blog

Song of the Day: The Who - "Pictures of Lily"
by Live Music Beth
November 3, 2008
One of my earliest memories is "playing guitar" with a broom to "Pictures of Lily'" doing the windmill' pretending to be Pete Townshend. It was my first favorite song. It's about masturbation.

I didn't
know
it was about masturbation. I didn't even know what masturbation was. I was about four years old.
My big brother Jim got me into The Who' way back then' and tonight we're going to see them in D.C. In honor of this' here's an oldie but goodie. And to bring us to present day' here's a newie and goodie' "Endless Wire'" off The Who's 2006 release Endless Wire. If you don't know this album' check it out. It exceeded even my expectations' a dyed-in-the-wool Who fan. It's truly great.
Pictures of Lily


Endless Wire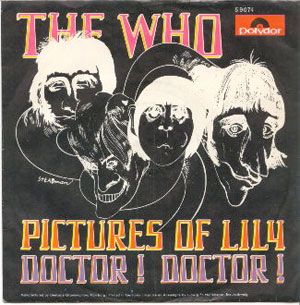 tell a friend
Comments
looper7
November 3, 2008
Sorry but it's not The Who. It's Pete Townshend and Roger Daltrey and some sidemen. The Who was is and always will be Tosnshend, Daltrey, Moon and Entwistle. Aside from The Beatles, there has been no more unique chemistry in the history of rock and certainly none more spectacular onstage (it was dumbing down when they started using laster lights!?!?)
Jones
November 4, 2008
Umm... sounds like the Who.
looper7
November 5, 2008
Listen harder...and with both ears
Brent
November 5, 2008
Nice post Live Music Beth! I just saw the Who... or "Roger and Pete and the kick-ass sidemen" (keep looper7 happy :>) in Boston and it rocked!!! Call it what you want, it's semantics. Bottom line is that whatever you call it, it's great live rock music.
looper7
November 6, 2008
Long Live The Who...The Who Are Dead!...relativity has its disadvantages
Add your comment