Blog

Langerado Announces Initial Lineup
by Mike McKinley
December 9, 2008
This year Langerado will take place at Bicentennial Park in Miami' Florida on March 6' 7 & 8. The initial lineup was announced today:

DEATH CAB FOR CUTIE
SNOOP DOGG
RYAN ADAMS AND THE CARDINALS
THIEVERY CORPORATION
SLIGHTLY STOOPID
FLOGGING MOLLY
DASHBOARD CONFESSIONAL
BROKEN SOCIAL SCENE
COLD WAR KIDS
GIRL TALK
CHROMEO
MUTE MATH
BLACK KIDS
GYM CLASS HEROES
THE FAINT
THE POGUES
ZAC BROWN BAND
MATISYAHU
THE DISCO BISCUITS
UMPHREY'S MCGEE
ROBERT RANDOLPH AND THE FAMILY BAND
MICHAEL FRANTI & SPEARHEAD
LOTUS
RA RA RIOT
THE EGG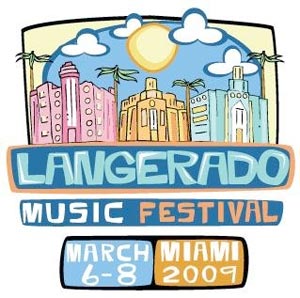 tell a friend
Comments
Burt Whitiker
December 9, 2008
That's a good mix. I'm sure people are going to bitch about it.
luke
December 9, 2008
god this lineup is terrible
alex
December 9, 2008
i think it looks great. snoop dogg, dcfc and ryan adams in one fest? talk about diversity. i'm definitely thinking about going
Kid Ohio
December 9, 2008
I agree, Alex. If you're gonna listen to music for three days you need variety. That's some good variety right there.
JC
December 9, 2008
think id reverse the order in some ways
Home Again
December 10, 2008
One thing is for certain - I'm heading south in early March
Adam
December 10, 2008
If I wasn't in VA I'd be all over this festy. Bisco and Umph almost seem out of place on that list - those Bisco kids are gonna HATE every band on there except they're own. Should be an interesting crowed.
Mike M.
December 10, 2008
I dig Bisco and I think most of their fans are going to like this lineup. I think they want diversity too. The ones that dig the dance party get Chromeo, Girl Talk, Lotus, and The Egg. It all works out.

Kind of amazing how one band can play in VA and it's seems to be more appealing than 100 great bands in FL. It is the first one back though...
Dirty Jerz
December 10, 2008
sooooo really? is this festie going to sell tickets or what? is langerado gonna get phucked by the phour?
Adam
December 11, 2008
Yeah, I guess as long as there's late night bands they'll be happy.
Mike M.
December 12, 2008
I think you're misunderestimating fans of the Biscuits. Sure, like any party you're going to see some tards. But for the most part, their fans are music fans - they're smart and open to a lot of different sounds.

As much as the Biscuits get shit for lyrics and the untz, they have a lot of really intelligent compositions - they're smart musicians. Areas where they lack depth seem to be forgivable because they make up for it elsewhere. My .02

Dex
December 13, 2008
looks good to me!
Add your comment