Blog

Video of the Day: Disco Biscuits - "Killing in the Name" & Planet Anthem
by Mike McKinley
January 19, 2010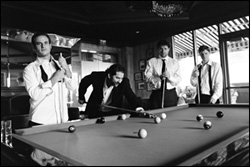 Last week I received an advance of the Disco Biscuits' new studio record
Planet Anthem
. My first impression left me feeling similar to a lot of experiences I've had with the Biscuits over the years: It surprised the shit out of me. In 2001 when they released
They Missed the Perfume
it felt like a massive sonic breakthrough with layers and layers of electronic sounds that made headphone listening a revelation. Nothing sounded quite like it. In this case with
Planet Anthem
' it's a little more perplexing in its surprise factor. What I've heard so far tells me' for the most part' that the Biscuits made a record that potentially has club dance hits on it (and of course' there's more) -- complete with auto tune vocals' poppy-beats' etc. It hasn't sunk in enough yet to say if that means its good or band. Surprising to hear? You bet your ass.
The Disco Biscuits have announced a big winter/spring tour to support themselves and to support the release of
Planet Anthem
-- due out February 2' 2010.
Check the dates here.
Here's another surprise I recently stumble across: the Biscuits covering
Rage Against the Machine's
"Killing in the Name" from Buffalo' June 5' 2008. Wowie.
tell a friend
Comments
Ben Reed
January 20, 2010
The Biscuits have never been a stellar studio band (IMHO), but it'll be interesting to see if these "club banger"-type tracks achieve any of the commercial success the boys seem to be going for with this album. It sure would be interesting to see teenyboppers and hipsters at Biscuits shows, even if it were only for a tour or two.
Mike M.
January 20, 2010
It would be really interesting to see the Biscuits get commercial success. You'd get to watch a new crowd from a different musical world react to one of their shows. And also because it's so rare and difficult (oddly so) for a band that's established and has found success in one area of music or niche, to then become successful or even taken seriously in another medium of music. In the case of Biscuits, having a single, a hot album, etc. It will be interesting to see if anything goes down with Planet Anthem… most likely, for better or worse, it will be their fans discussing it with some saying "WTF?" and others embracing it.
Add your comment